Level 2 Accredited
Service Providers
Payless Power Poles are ASP Level 2 electricians based on Sydney's Northern Beaches and serving customers all over the Sydney metro and NSW regional area's.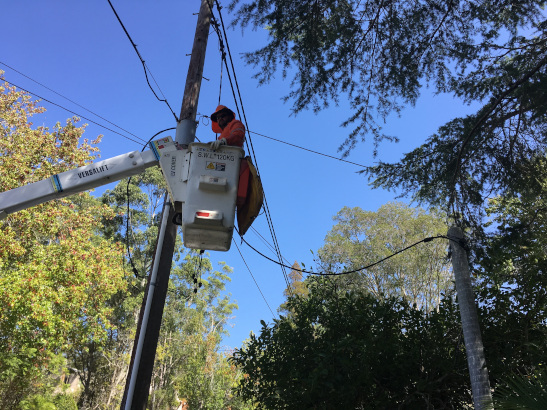 Single and Three Phase Service Lines

Switchboard Upgrades

Defect Rectifications

Underground & Overhead Service Cables (UGOH)

Elevated Work Platform Truck (EWP)

Point of Attachment Relocation and Repairs

Tree Trimming

Up to 200 AMP Service Installation

Three Phase Upgrades

Disconnect/Reconnect of Incoming Electrical Supply

Metering and Energising

Mid Span Connections
Power Pole Installation and Replacement
Defect Rectification Works
Temporary Builders Supply
Lighting Poles for sporting facilities
Ausgrid and Endeavour Energy Level 2 
Accredited Service Providers
An authorised ASP/2 can install, repair or maintain the overhead or underground service lines between the customer installation and the electricity network. This includes disconnecting and reconnecting existing premises from the network, installing electricity metering equipment, connecting service lines to the network to and from your private power pole and then energizing/testing the installation.

AUSGRID Service and Installation rules

The Service and Installation Rules for New South Wales cover the requirements for the connection of electrical installations to the distribution network. Download Service and Installation PDF

ENDEAVOUR ENERGY Service and Installation rules
Endeavour Energy is responsible for the safe and reliable supply of electricity in Sydney's Greater West, Blue Mountains, Southern Highlands the Illawarra and the South Coast. For further information please visit their website –
http://www.endeavourenergy.com.au
Frequently Asked Questions
Can a private pole be located anywhere on my property?
No, the first private pole or (A pole) must be located within 1 M of the front of the property, any subsequent poles can be further within the boundary as required. It is possible but difficult to obtain dispensation from this requirement if the terrain is of a difficult type for erection of a pole.
Can I connect my private pole to a lead in pole?
No you cannot connect your private pole to a lead in pole, any private pole must be connected directly to the closest network pole.
Who is responsible for the cable between my house and the network pole?
The customer is responsible for the cable between the house point of attachment or private pole and the network pole.
Can my aerial cable run across an adjoining property?
No, your aerial cable must not cross over an adjoining property unless a suitable easement is provided or right of passage obtained.
Payless Power Poles are happy to discuss your next project in person or over the phone to help choose the correct pole to suit your needs.
CALL US TODAY!
ABN: 67 615 703 752
Lic No: 301712c
Unit 4/2 Apollo Street,
Warriewood NSW 2102